NOTE: This feature is not in the Punch "Essentials" or "Express" software titles.
So you have either found, or scanned, your perfect floor plan, and now you want to bring it into Punch.
Floor plan images are imported through the Floor Plan Trace Properties option window, under the
Design menu, then click on the "Set Image" button.  These images are then used as a 'tracing layer' on top of which you will draw your actual Punch floor plan

The following Image formats can be brought into Punch.
BMP, JPG, PNG, TIF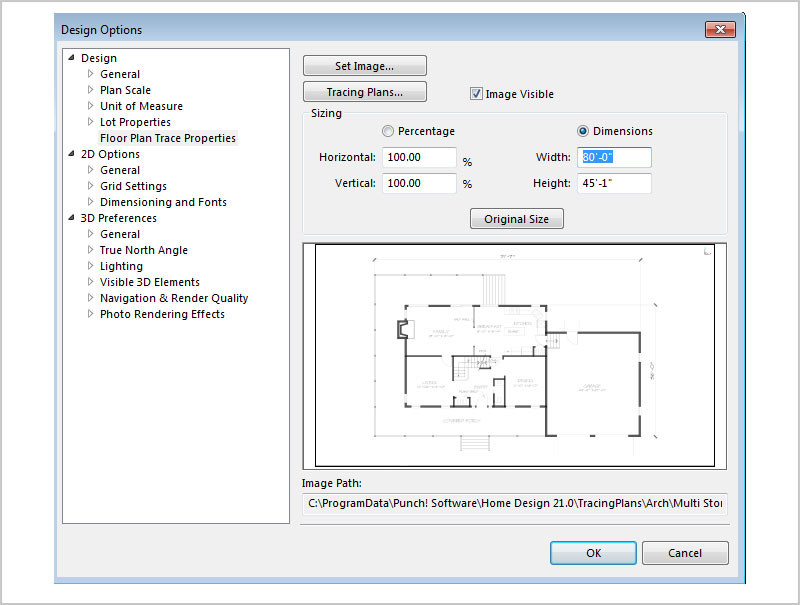 Once you have browsed, and selected your floor plan Image, just click the "ok" button.
The next step is to resize our Image, so it matches Punch's scale.

To do this we are going to use the wall tool as a measuring device.
We know the overall width of the house is 71' – 7"
Will use the wall tool to trace on top of it.
The Punch wall shows as 53' – 5"
To resize the image do the following

Click on Design in the top left menu.
Select Floor Plan Trace Properties.
In the Sizing box, in the "Percentage" column, change the default numbers of 100% to something bigger to make it bigger, or smaller to make the image smaller.
We have entered the numbers several times, and have found that our Image needs to be blown up to 134%.

Now when we use the Punch wall tool and trace on top of the Images dimension, they will match.
At this point we know that both are to the same scale.

We can go ahead and trace on top of all of the walls.
Then we can add our Punch windows, and doors, on top of the doors, and windows on the Image.
Once your tracing is complete, you can then hide the Image that you just traced.
Simply click on "Design" then select "Show Floor Plan Trace Image".
We hope you can see how using the floor plan trace feature, in Punch Software can save you time designing your floor plan.